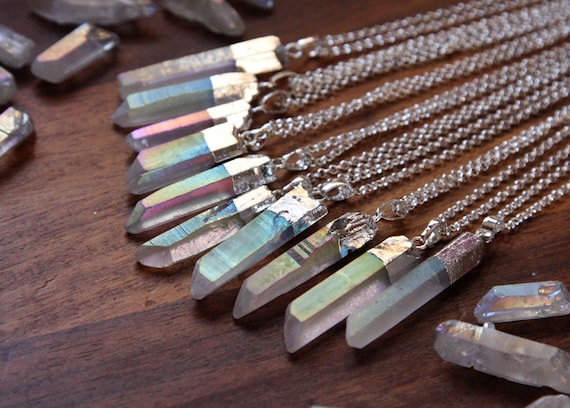 Angel Aura Quartz Necklace
A fine necklace made from angel aura quartz and hung from a gold or silver chain. (*Note: The one pictured above is not the exact same one that I ordered. The original one sold out, but this is very close to the one I bought)
Price: ~$14
Purchased from: Etsy, KissTheFuture
Length: 28 cm
Shipped from: England
———————————-
Hello everyone! I really meant to post this earlier,  but I was very caught up in other things. It looks like this is gonna be my last post of 2016, so I hope you had a good holiday season!
Anyways, this is my brand new necklace that I ordered online via Etsy. My old necklace broke, and I needed something to replace it. I was looking for a nice, versatile type of stone that would help keep me spiritually in tune and has a variety of uses. As per the suggestion of a friend, I looked into angel aura quartz, since it can be used for many things spiritually. A Google search turned up this as a result, which has been working out really well for me.
I really like this necklace. First of all, quartz in general is a very useful material, both physically and spiritually. It's nice to have an actual necklace made out of it. Second, it has a nice, symmetrical, pointed shape, which is perfect for me to use as a pendulum. Lastly, it looks nice; I can wear it around without people reaching for it or questioning it's meaning.
Here's what it looks like on me. The picture doesn't do it justice; it truly is a beautiful necklace. It's slightly iridescent and a bit cloudy at the end, and the short design is something I could really get used to. If you're looking for something small but noticeable, or you want something that'll help you spiritually, this is definitely what you should get.